4 tags
Ben-Day dots
In our MoMA lecture today, we learned about the technique called Ben-Day dots. When it was first mentioned, it sounded so foreign to me as I've never studied such a technique. As it usually is with the things that baffle me, I was keen to research it. Here's what I found out about Ben-Day dots: A trademark style used by American pop art painter Roy Lichtenstein in his works. It...
10 tags
session 12: giacometti and postwar europe
This week's MoMA lecture has got to be one of the most depressing things I've ever learned in history. The topic isGiacometti and Postwar Europe. As the title suggests, we discussed the art scene in Europe, after the World War II. In other words, this topic is the counterpart of last week's topic of the New York school. But if that one was about how artists created their works in...
6 tags
session 11: pollock and the school of new york
 the first session today is about Jackson Pollock and The School of New York. Otherwise known as the class where I blanked out on Abstract Expressionism. First of all, I have to say that I was once again disappointed that our lecturer (same guy as before, Mr. Amir Siddharta) ran out of time to play ALL THE VIDEOS. Unlike the first series of MoMA lectures, this time around those who have near full...
5 tags
days of modern & contemporary art
It has returned. The Museum of Modern Art (MoMA) Online Course sessions are back again. This time, it's not just about modern art, but also about contemporary. Officially, the second series is titled Modern and Contemporary Art From 1945-1989. There will be 10 sessions in all, like the first time, so in this blog and in my notes, I will number the sessions from 11 to 20 (continuing from the...
3 tags
4 tags
4 tags
Man Ray: National Portrait Gallery stages first... →
The National Portrait Gallery is to stage the first museum exhibition devoted to portraits by the photographer Man Ray. One of the most innovative photographers of the 20th century, Man Ray (born Emmanuel Radnitzky) is best known for his avant garde images. But he also produced portraits of artists, musicians and performers throughout his career, photographing the likes of Catherine Deneuve,...
3 tags
3 tags
the continuation
I've been struggling to decide what to do with this blog. Since the MoMA Online Course for modern art is over, I no longer have anything to write here. But I do plan on continuing with the next course (on contemporary art) when I get the chance so I can't exactly retire this blog. That's why I've been updating it with miscellaneous modern art-related things in the past few...
2 tags
9 tags
1 tag
1 tag
"Here's a tip, if you're looking at Picasso's (paintings), always look for the..."
– Craig Ferguson (via starkky)
2 tags
"Onward to Point C - in this case Southwark, the traditional home of bear..."
– Ben Aaronovitch's Whispers Under Ground (Chapter 8: Southwark, page 113) 
re: surrealism
m0llah: art2go: m0llah: art2go: Prettiest, weirdest works I've seen from the surrealists in Session #10. Self-Portrait with Cropped Hair by Frida Kahlo | The Leaf of the Artichoke Is an Owl by Arshile Gorky | Object - Meret Oppenheim | The Birth of the World by Joan Miró | The Song Of Love - Giorgio De Chirico I never considered Kahlo a Surrealist, though she was of that era, but I do...
6 tags
5 tags
moderna museet
Everyone keeps talking about wanting to go to MoMA in New York. Of course, now that I've learned about its collections and the history of modern art, I wish to go there one day, too. But if you think about it, MoMA is not the only modern art museum that we can visit to see works of modern art. The Tate Modern in London and MUMOK in Vienna, among others, are some of the museums I personally...
2 tags
5 tags
150 and 5: anniversaries
In November of this year, it will be the 5-year anniversary of my visit to The Belvedere in Vienna, Austria. I remember getting on the tram on a snowy Viennese morning to go there. (And later in the afternoon, I went to the Kunsthistorisches Museum. Really, I could stay in Vienna for a month and do nothing else but museum-hop and go to music concerts.)  And this year is the 150th year anniversary...
6 tags
3 tags
graduation story #2
There was a bit of MoMA Class graduation after party with Team Jorjes-School of PP last Tuesday. It consisted of us sitting down in Liberica and just talking about stuff (I don't remember what we talked about; although I think we did try to come up with our book club schedule—or maybe that was just me making stuff up in my head.) Then there was coffee, tea, and I ate some food. And...
4 tags
6 tags
Watch
Helen Mirren on Vasily Kandinsky Filmed by Lost & Found Films. Produced by MoMA.
6 tags
graduation story #1
So we 'graduated' from our MoMA Online Course on Modern Art: 1880-1945 on Tuesday, 26 June 2012. This basically means we get our certificates (not without a huge serving of disorganization and fiasco - but that story will come later.) There was a 'graduation ceremony' @atamerica in Pacific Place at 7 PM consisting of speeches and certificate awarding procession, like a...
7 tags
3 tags
Art.sy - Discover fine art →
Art.sy is an art website where you can browse works from various genres and artists, both 'historical' and living. It's still in beta so it's not exactly the biggest virtual museum there is, but it has the potential to broaden your knowledge on art. Also, there are plenty of pretty pictures and photos here - a true feast for the eyes. I hope this can be as useful and as fun...
8 tags
6 tags
BBC Modern Masters →
Four artists who changed our world The life and enduring influence of Matisse, Picasso, Dali and Warhol explained and explored.
5 tags
team jorjes
Following Pablo Picasso, Amedeo Modigliani and the artists that used to hang out in Paris in the early 1900s, my friends and I made a habit of gathering almost every Saturday at Pacific Place after our MoMA class lectures. Our Café de la Rotonde is usually Pancious. Or Go Curry. Or Liberica. Or Starbucks, when we can get seats. Photography by odayski (original here) When you hear us talk, we...
7 tags
2 tags
3 tags
4 tags
7 tags
8 tags
session 10: dali & surrealism
How appropriate is it that the last MoMA online course lecture session ends with the weirdest of them all? Salvador Dali and Surrealism. Welcome to "beyond realism". Being the movement that prevailed post-Dada, in my notes I described Surrealism as: Hyper-reality —> illusionistic Which is a load of bollocks if you have no idea what you're dealing with in the first...
2 tags
"SURREALISM, n. Psychic automatism in its pure state, by which one proposes to..."
– André Breton - The Surrealist Manifesto
5 tags
7 tags
5 tags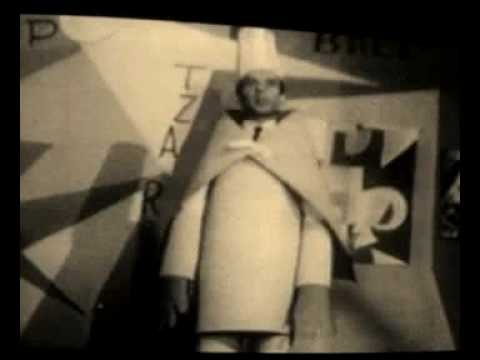 4 tags
3 tags
4 tags
3 tags
"L.H.O.O.Q = "Elle a chaud au cul" = "She has a hot ass."
– Marcel Duchamp
9 tags
session 9: duchamp & dada
Here we come to the most fascinating part of the modern art movement: Dada. Let me tell you, if I were to become an artist at all, most of my work would be categorized as Dada. What a strange movement this was, originating in Zurich and spreading throughout the major cultural centers in Europe, as well as New York. The idea behind this one was "utter nonsense", as in, "what the...
3 tags
5 tags
session 8: moholy-nagy and the bauhaus
The Bauhaus. A very familiar name to me - thanks to a font style called Bauhaus - and a topic that was so diverse in its discussion that I only had two pages of notes about it in my Moleskine. (I do that sometimes; when my brain is receiving too much, I freeze up and end up not being able to do anything.) On the whole, I do understand what it's all about: it's an art and craft school...
3 tags